Posted by: Amber Benson
Recently, the green light was given to logging in Alaska's Tongass Rainforest and now pristine national forests in other parts of the country could be in jeopardy. One of the key environmental policies that Barack Obama pledged to support as president is the Roadless Area Conservation Rule, which protects nearly 60 million acres of our last remaining undeveloped national forests from most road building, logging and other industrial activities.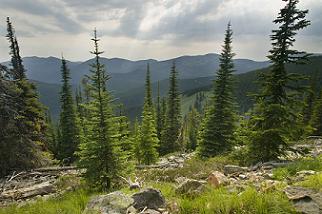 But, backed by special interests, the State of Colorado is attempting to get out from under this popular policy and open up some of the best backcountry in the Rocky Mountains to new coal mines, methane wells and oil and gas drilling. As a result, Colorado's national forests could be become a magnet for development and pave the way for similar activity on pristine forestlands elsewhere in the country like Washington State.

WHAT YOU CAN DO

We need your help. Please ask Secretary of Agriculture Tom Vilsack, who oversees the U.S. Forest Service, to reject Colorado's proposal and carry out President Obama's pledge to uphold the 2001 Roadless Area Conservation Rule as the best policy to protect our last national forests in every state. Protection for our roadless areas here in Washington State are only as strong as the national roadless rule.

CLICK HERE TO SEND AN E-MAIL NOW!

Photo: Twin Sisters, Inventoried Roadless Area, by Eric Zamora, used with permission.